---
Quality Build, Construction & Materials

You can read all about our Outdoor Buildings below,
including details about our materials and individual Warranties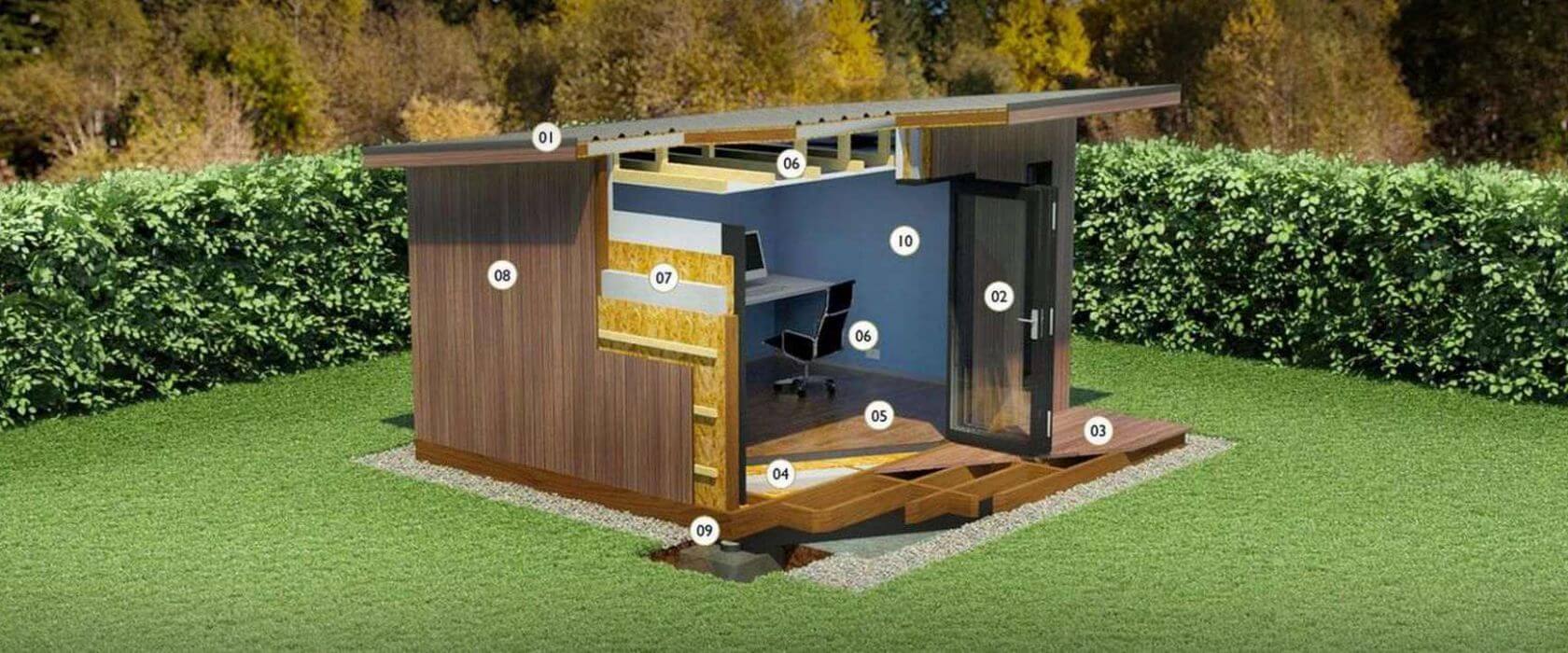 ---
Garden Room Specifications
Below you can see the full specifications for our garden rooms and pods. If you have any further questions, please get in touch and we'll be happy to advise…
---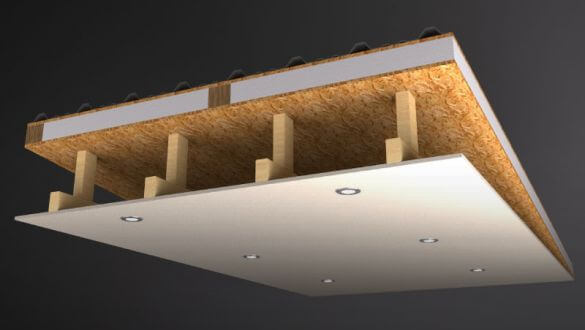 1 – Roofing
The roof is a high spec composite powder coated metal skin panel system with a highly insulated core, giving exceptional insulating properties. The roof is virtually maintenance free, requiring no replacement membrane or servicing. The roof is manufactured using SIP Panels (Structural Insulated Panels) with a U Value of 100mm Panel – 0.27 and 150mm panel – 0.17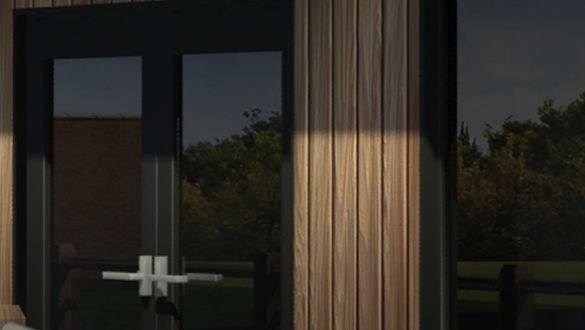 2 – Doors & Windows
All of our buildings are fitted with double glazed secure UPVC doors and windows. Windows and Doors and manufactured in Anthracite grey which is our standard colour. All doors and windows have excellent insulating properties, with super-efficient Planitherm clear glass, with warm edge super spacer bars. The door and window are also fitted with insurance grade locks, to provide the highest levels of security for your building and its contents.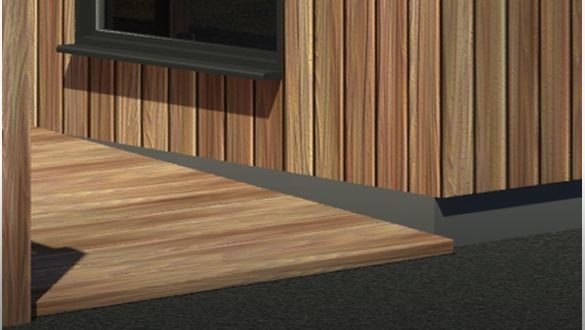 3 – External Decking
18mm x 145mm high quality Thermo Wood decking fixed to c16 graded structural tanalised timber. This gives a perfect level platform for a table and chair seating area.
4 – Flooring Structure
Manufactured using 100mm SIP Panels with 75mm x 100mm Timber jointing structure, the timber used is C16 grade. A water proof membrane will be laid between the concrete piles and the underneath of the SIP panel flooring. There will be a 50mm air gap between ground level and underneath of the SIP Panel
5 – Internal Flooring Finishes
The internal floor is 12mm oak laminated flooring system complete with a 3mm insulation barrier. To complement the flooring and walls, all our buildings are fitted with a 100mm skirting board.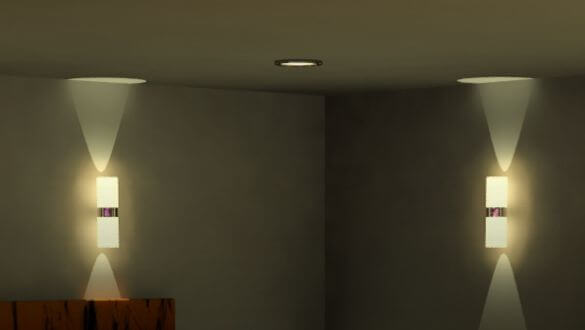 6 – Electrics & Lighting
Each Garden Room comes complete with a comprehensive electric package, comprising of, mains consumer unit, 100mm slim line recessed LED spotlights, standard white double sockets and lights switch. All wiring is concealed within the timber framework, all electrical wiring comply too current 17th edition wiring regulations ready for local electrician to connect your home mains supply (which Bridge Timber Garden Rooms can also accommodate for if needed).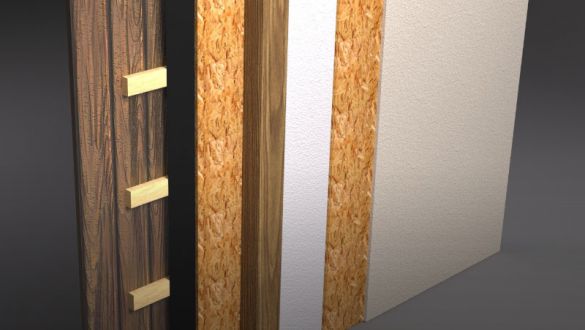 7 – Structurally Insulated Panels
Structural insulated panels (SIPs) are a high performance building system for residential and light commercial construction. The panels consist of an insulating foam core sandwiched between two structural facings, typically oriented strand board (OSB). SIPs are manufactured under factory controlled conditions and can be fabricated to fit nearly any building design. The result is a building system that is extremely strong, energy efficient and cost effective. The SIP panel is then wrapped in a waterproof, breathable membrane. This breathable membrane acts as a one way valve and allows natural moisture to escape out of the buildings.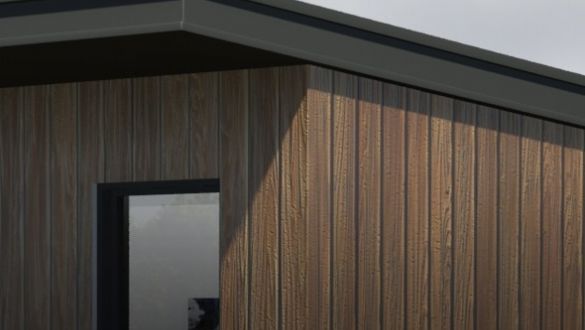 8 – External Cladding
High quality Western Red Cedar, 18mm by 150mm. Western Red Cedar is the ideal natural material for cladding garden rooms and outdoor buildings due to the natural preservatives contained within the wood, making it resistant to rot and decay with no additional chemicals or preservatives needed. Other wood species are available on request, such as Thermowood, Siberian Larch or tanalised Redwood cladding. The natural oils and properties of Western Red Cedar make the cladding virtually maintenance free, requiring no additional preservatives.
9 – Foundation
There is no need for a concrete foundation to be installed prior to installation for any of our garden rooms. Instead, we use a specially designed concrete pad with piled designed foundations. This means we can install onto uneven ground. Also, using this system allows great ventilation underneath the structure thus preventing rising damp.
10 – Internal Finish
All our Garden buildings have traditional plasterboard walls and ceiling, with a skimmed finish ready for your personal added touch. (We recommend that you use a super latex high opacity matt or silk emulsion, also available for the wall is a 12mm MDF wall panelling system, this allows for a panelled finish to the internal structure).
---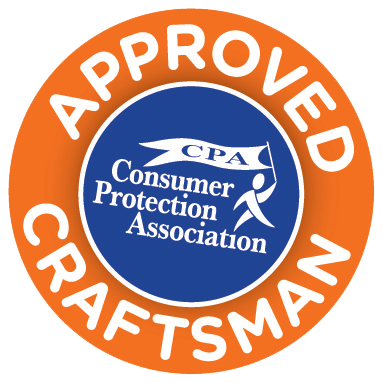 10 Year Guarantee
We ensure your building is built to to the highest standard of workmanship using premium quality materials and supplies, and for your own piece of mind for the long term, all our buildings are available with 10 year insurance backed guarantee.
View Warranty & Aftercare
'Zero Maintenance' Composite Cladding
---
Learn More!
---
All of our designs can be upgraded to our 'zero maintenance' composite wood cladding which has the natural look of timber and the feel of real wood but provides low maintenance, life-proof durability and weather-resistant qualities.